Makawao Cemetery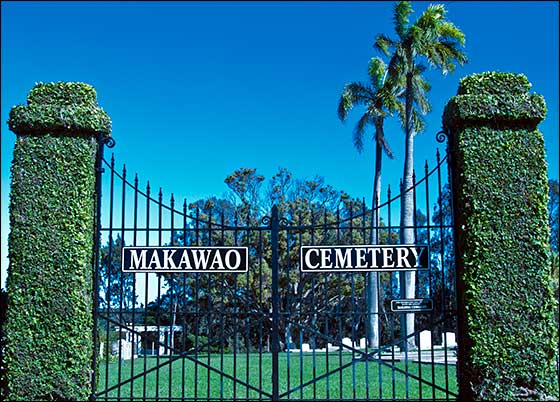 For more than 150 years, Makawao Cemetery has been an iconic part of Upcountry Maui and is located on over seven acres of beautiful grounds near Makawao Town ... Some historic Maui figures chose to make their resting place in this peaceful and pastoral setting. Your family can, too.
The Makawao Cemetery is a nonprofit, nondenominational memorial park. Our gates open to welcome folks of every race, religion and nationality. Our rates are highly competitive, our flexibility unbeatable:
individual and family plots
bordered or borderless
casket or urn
traditional or green burial
type of headstone and plantings
The choices are yours.
The Cemetery is a excellent example of an early American "rural" cemetery, distinguished by a serene park-like setting, and a multitude of ornately carved tombstones
The Makawao Cemetery is descended from the "Foreign Church" that occupied the property from 1861 to 1889 and where its founding minister, the Reverend Jonathan Green, and his wife are buried. There is a rich history of people resting at the Makawao Cemetery, many of whom played a significant role in what Maui has become.
The cemetery is owned and managed by the Makawao Cemetery Association and is a 501 (c) (13) charity. The mission of the Makawao Cemetery Association is:
To ensure quality perpetual care of the Makawao Cemetery,
to preserve its history,
and to provide a tranquil final resting place for all faiths.
Plots are available for purchase in many sizes and family plots can be customized. Please visit our "
Plot Information
" page for more information.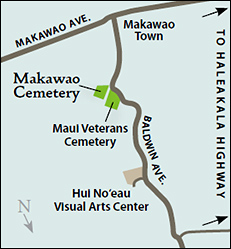 Plots are available for purchase in many sizes and family plots can be customized.
Please visit our grounds.
You are welcome anytime.
1-808-878-8338
Testimonials
"I was looking for a plot for myself, so my kids wouldn't be burdened with that. I told my dad I was thinking about Makawao Cemetery. It's beautiful, well-kept, and it's upcountry, where I've lived all my life. My dad said, 'Nice sentiment, but that's for important people.' Well, the Cemetery superintendent came to the house with all the paperwork, and I picked a plot next to a yellow lehua tree."
— CB