Memorial for the Military Veterans of Makawao Cemetery [G-P]

The purpose of these pages is to recognize the military veterans buried at Makawao Cemetery. These servicemen participated in the Civil War, the Hawaiian Rebellion, the Indian Wars, the Spanish American War, World War I, and World War II.
The veterans' posts are listed alphabetically by last name: [A-F], [G-P] (this page), and [Q-Z].
---
Gossin, Andrew
Sgt. Andrew J. Gossin (b. in Cincinnati, Ohio 1847-June 24, 1911) age 64 years
Co. A 13 Regiment, U. S. Infantry
He enlisted in the Union army as a drummer boy at the outbreak of the Civil War; mustered out after Richmond was captured. Served over the duration of the war.
Postmaster at Kahului; Mason a member of Lodge Maui No. 984  A. F.A.M.
Married Cora Elizabeth C. (b. 1863 in Aurora, Iowa) on Oct. 1, 1885 Ft.Scott, Kansas
Masons proceeded to Makawao for the funeral via a special train
pension application by wife Cora Gossin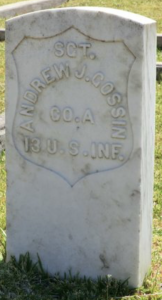 ---
Grant, George Boyne
Grant, George Boyne (b.in Elgin, Morayshire, Scotland in 1892-d.1927) Age 35 years
British Army: three and a half years as a non-commissioned officer in the Infantry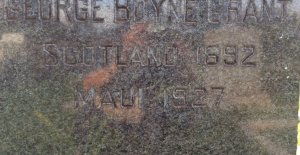 ---
Haili, Herman George
Herman George Haili (b. Oct. 2, 1913-d. Oct. 25, 1988)
BOSN U. S. Coast Guard
World War II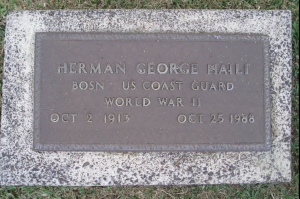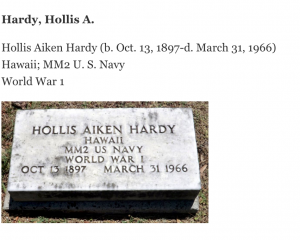 ---
Holtberg, Tage
Sgt. Tage Holtberg (b. Jan. 28, 1887 in Glimakra, Swane, Sweden-d. Sept. 7, 1930)
Married July 23, 1923; wife: Mrytle Huddleston Holtberg from Texas, a public school teacher and principal of Wailuku Elementary
Nevada; Arrived in Hawaii in 1917 during the war (Maui News obit.)
Sgt. 9 Ambulance Co., Three years in medical corps at Schofield
military issue grave marker with Christian cross and dogwoods
Employed first by East Maui Irrigation Co. and then became superintendent of the transportation department of H C & S; superintendent of steam railroad
Masonic services
---
Horn, Isabella Langa
Isabella Hortense (Langa) Horn (b. Nov. 11, 1897-d. Dec. 14, 1965)
(Dau of Jesse and Isabelle Langa)
Married to Mathew A. Horn
California; Y1, USNRF, World War 1
---
Horn, Matthew A.
Mathew Amondous Horn (b. Sept. 30, 1892 at Mare Island, Calif.-d. Nov. 24, 1952)
California, Pvt. HQ CO. 36, Infantry, Div. 51; enlisted Mare Island, California;
World War I; Sgt. Maj. 146th New York Volunteers;
2nd Lt. G, 5th Vet Volunteer Infantry
1917 enlistment states occupation: brickmason (no photo)
Married to Isabelle Hortense Langa
Services at Puunene Catholic Church: employed by H C & S as plumbing and concrete overseer
---
Lockwood, Douglas
Pvt. Douglas(s )Howell Lockwood (b. April 12, 1886 in California-d. Sept. 22, 1964) Laborer with Hawaiian Pine Co. on World War I draft registration
Hawaii;
Pvt. 1 Cl., Co. I, 2nd Tennessee Infantry
1940 Census: retired, lodger at Baldwin Home
gravestone marked with a Christian cross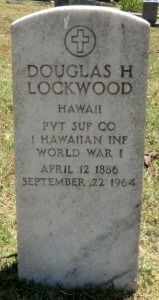 ---
Lyons, Raymond Richard
Lieutenant Commander Raymond Richard "Doc" Lyons (b. Dec.10, 1902-d. 1985)
1925 graduate of the U. S. Naval Academy at Annapolis; commissioned
June 23, 1921 Enlisted entry
1930 Lt. j. g. aboard the U S S Northampton; RADM; Capt.
1949 Discharged in January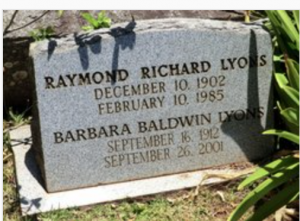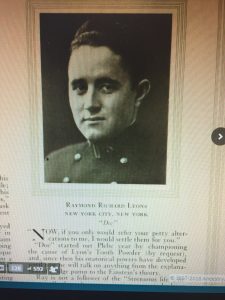 ---
McBarnett, Alexander J. W.
Alexander J. W. McBarnett (b. January 29, 1917 in Rhodesia-d. April 23, 2001 on Maui)
SIG AD ASTRA (thus one journeys to the stars)
Royal Air Force 1939-1945; World War II
"Freedom is within each of us what happens from the outside
is of little consequence; we will carry his spirit forever"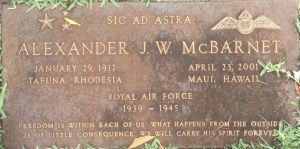 ---
Mellor, E. C.
Cpl. Edmund Carroll Mellor (b. April 21, 1878-d. Nov. 7, 1934)
Co. F, Regiment 10th
Ohio Volunteers, Infantry
Spanish- American War
Ethel Mellor: wife
---
Morreira, Michael W.
Michael Wallace Morreira (b. Aug. 30, 1937-d. May 10, 1981)
Aged 44 years
---
Peacock, Edward L.
Edward Leister Peacock (b. 1896-d. 1961)
Three generations of Peacock's completed flight training at the U.S. Naval Air Station in Pensacola, Florida: Edward-WWI, John-WWII, and Robbie-Vietnam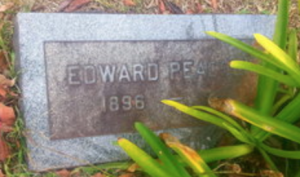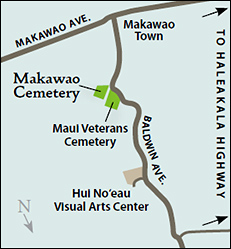 Plots are available for purchase in many sizes and family plots can be customized.
Please visit our grounds.
You are welcome anytime.
1-808-878-8338
Please Consider a Donation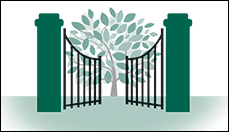 Your contribution to the Makawao Cemetery will enable it to continue to meet its mission by providing exceptional perpetual care of the grounds for the many individuals and families that lie within its borders as well as for those to come.
We are a 501(c)(13) Charity
Testimonials
"I was looking for a plot for myself, so my kids wouldn't be burdened with that. I told my dad I was thinking about Makawao Cemetery. It's beautiful, well-kept, and it's upcountry, where I've lived all my life. My dad said, 'Nice sentiment, but that's for important people.' Well, the Cemetery superintendent came to the house with all the paperwork, and I picked a plot next to a yellow lehua tree."
— CB