Makawao Cemetery Financial Support
Your Gifts to Support Makawao Cemetery Make a Difference
For generations, people on Maui have supported the Makawao Cemetery financially and with gifts of time and talent. Their generosity has helped this historic non-profit cemetery become the peaceful and tranquil place you see today.
Your contribution to the Makawao Cemetery will enable it to continue to meet its mission by providing exceptional perpetual care of the grounds for the many individuals and families that lie within its borders as well as for those to come.
Estate Planning - When making decisions regarding your will or trust please consider making a planned gift to the Makawao Cemetery Association as part of your estate planning. Contact the Makawao Cemetery Association for further information.
Outright Gifts have an immediate and significant positive impact on cemetery operations. You can make a donation today:
Make A Gift By Mail by Clicking Here to Download the printable Gift by mail form and mailing it to the
Makawao Cemetery Association,
PO Box 175,
Makawao, HI 96768.
(for your records our EIN is 99-0073510)
Make A Gift of securities (stocks or bonds) by Clicking Here to Download the Stock Transfer Instructions. Often gifts of appreciated securities or stock can be one of the most advantageous and tax efficient ways to give for the donor.
To Make A Gift Using a credit, debit card or your PayPal account please fill in the form below:
We value the privacy of our donors and do not sell, distribute or exchange any donor information.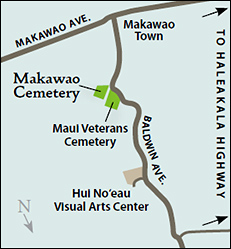 Plots are available for purchase in many sizes and family plots can be customized.
Please visit our grounds.
You are welcome anytime.
1-808-878-8338
Please Consider a Donation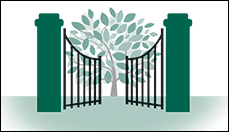 Your contribution to the Makawao Cemetery will enable it to continue to meet its mission by providing exceptional perpetual care of the grounds for the many individuals and families that lie within its borders as well as for those to come.
We are a 501(c)(13) Charity
Testimonials
"I was looking for a plot for myself, so my kids wouldn't be burdened with that. I told my dad I was thinking about Makawao Cemetery. It's beautiful, well-kept, and it's upcountry, where I've lived all my life. My dad said, 'Nice sentiment, but that's for important people.' Well, the Cemetery superintendent came to the house with all the paperwork, and I picked a plot next to a yellow lehua tree."
— CB