Memorial for the Military Veterans of Makawao Cemetery [A-F]


The purpose of these pages is to recognize the military veterans buried at Makawao Cemetery. These servicemen participated in the Civil War, the Hawaiian Rebellion, the Indian Wars, the Spanish American War, World War I, and World War II.
The veterans' posts are listed alphabetically by last name: [A-F]  (this page), [G-P], and [Q-Z]
---
Aiken, Dr. Perley J.
Dr. Perley Johnson Aiken (Sept. 5, 1841-Oct. 26, 1905)
Applied to the U. S. Military Academy at West Point
July 1, 1863: Perley, his brother Albert (died 5/1865) and his father, William, all volunteer on the first day of the Battle of Gettysburg
Civil War: Company B 58th Pennsylvania Infantry "The Emergency Troops of 1863" Six months enlistment lasted 6 weeks. All Aikens muster out 5/1863. Anderson 15th Calvary, and Perley was wounded. Perley returned to Signal Corps; Sgt. Georgetown Heights/U. S. Volunteers
arrived back on Maui in 1894
son of Rev. William Aiken (April 25, 1810-May 3, 1886) of Knoxville, Tennessee
and Martha Osborn (March 14, 1817-Mar. 29, 1895) in Knoxville, TN; both buried @Old Gray Cemetery, Knoxville, TN.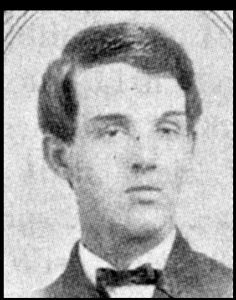 ---
Armstrong,  J. A.
Joseph Albert Armstrong (b. 1899 in New Hampshire-d. March 25, 1934)
Storekeeper 2nd Cl.
USS Seattle, U. S. Navy
1930 census: Father is from Canada, and mother is from Ireland
---
Aylward, R. M.
Pvt. Richard M. Aylward (1863 in Ireland-August 11, 1933)
Illinois
Pvt. 14, Co. E and C, Regiment, U. S. Infantry
military issue grave marker with Christian cross
enlisted July 16, 1883; honorable discharge March 22, 1888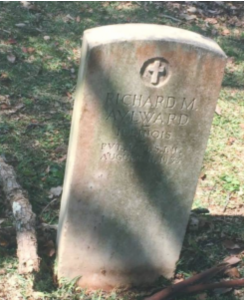 ---
Baldwin, Dwight V.
Dwight Van Atta Baldwin (b. May 11, 1895 in Hilo-d. Nov. 25, 1943)
Hawaii, 2nd Lieut., 302 Infantry, 76 Division, World War I
Son of Erdman and Nellie Baldwin; wife, Bessie Baldwin
Children: (Edmund, Barbara and Rhoda)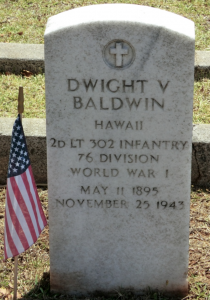 ---
Baldwin, John Castle
Baldwin, John Castle "Johnny" (b. Apr. 13, 1938-d. May 6, 2011)
Served in the United States Marines
---
Bonnell, John H.
Cpl. John Henry Bonnell (1876 in Louisville, Kentucky-1944)
Enlisted June 24, 1898  at Indianapolis in; discharged April 30, 1899 at Savannah, Georgia
He served in Cuba and the Philippines
Co. E 161 Indiana Infantry
K 17 U. S. Infantry
Spanish-American War
Married to Annie Catherine Hocking Bonnell (Apr.1960) and divorced. Three sons.
Married to Louise Fernandez Bonnell (d. Feb.1968) and one daughter, Louise in obituary
---
Boyum, John H.
John Hoag Boyum (b. June 19, 1919-d. 1973)
1940: graduated from the US Naval Academy
Capt. U. S Navy
World War II
1942: Distinguished Flying Cross
Commanded the USS Pine Island and USS Princeton
1968: retired from the Navy
---
Bush, III,  Gavien Fred 
Bush, III, Gavien Fred "Freddie" (b. Apr. 18, 1937-d. Dec. 19, 2011)
Served in the United States Marine Corps
---
Cameron, Capt. Charles Angus (b. Nov. 14, 1913-d. July 27, 2004)
Capt. U. S. Army Field Artillery, World War II
Participated in battles in the Marshalls, Marianas, Philippines and Okinawa
Awarded the Bronze Star Medal at Okinawa for heroic achievement
---
Cannon, Wilson Phillips
Cannon, Jr., Wilson Phillips (b. Aug. 25, 1919-d. July 27, 1980)
World War II; Capt. in the Army Air Corps/ pilot/service in China, India, and Africa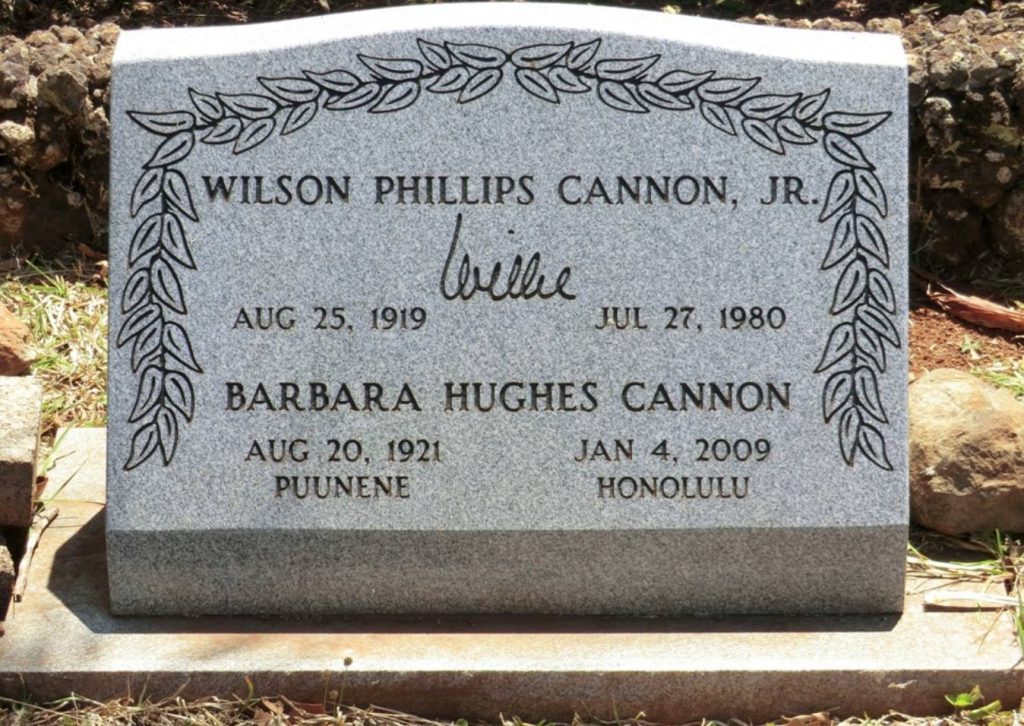 ---
Dickey, Charles H.
2nd Lt. Charles Henry Dickey (Aug. 12, 1841-Jan 28, 1932)
Civil War veteran (Union): Company C B, unit: 4th regiment, Illinois Cavalry,
enlisted August 12, 1861 as a private
discharged Nov. 3rd, 1864 left as a lieutenant
lawyer
---
Diehl, Valentine E.
Served in the United States Marine Corps during World War II
Captain served in Pacific Campaign, Bougainville, Territory of New Guinea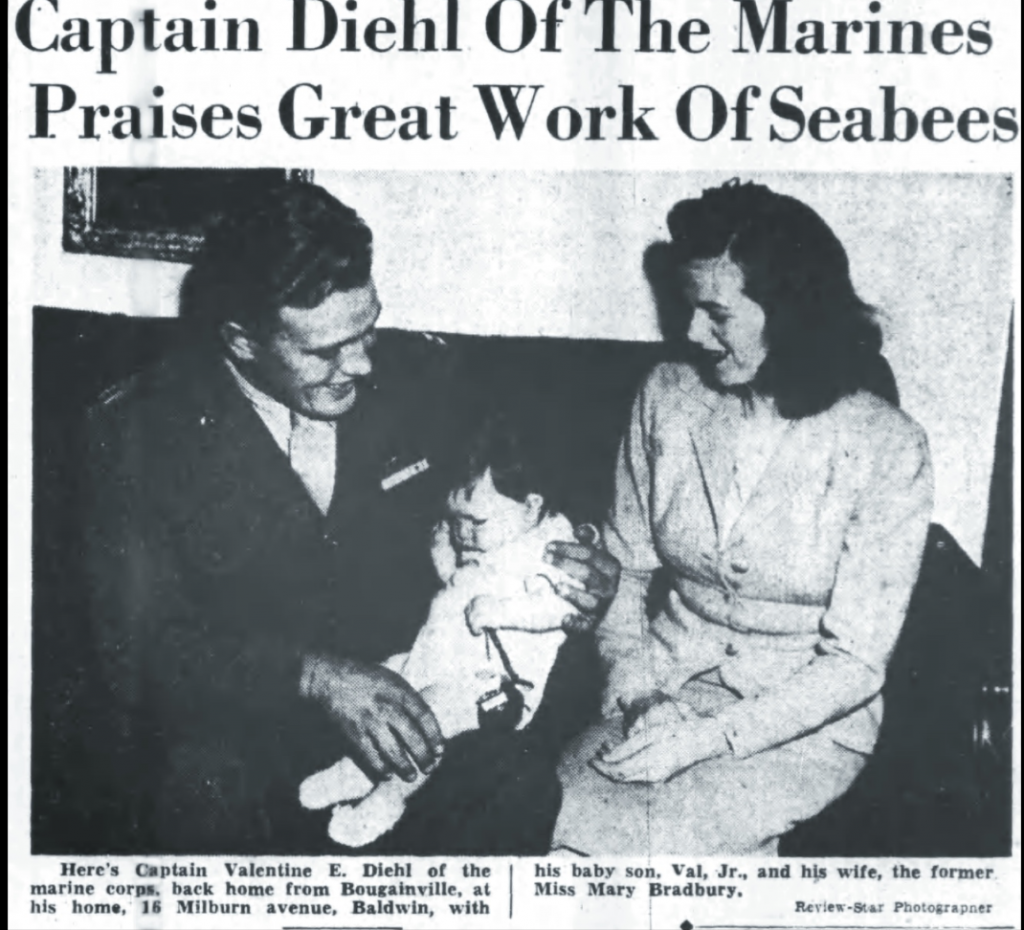 Dix, William (b. 1842 in Pennsylvania-d. 1926)
1862-1865 3rd Artillery stationed at Black Rock, Alcatraz
---
Fleming, Bruce
Fleming, Bruce Lundie (b. 1911-d. April 3, 1993)
Retired as U. S. Navy Lieutenant Commander; World War II
---
Foss, Francis D.
Francis (Frank) D. Foss (b. 1918-d. 1985)
TSGT. U. S. Army
World War II
Son of John H. and Irene C. Foss
---
Foss, John Harrison Jr.
John Harrison Foss, Jr.(b. Aug. 30, 1910-d. Mar. 2, 1993)
Lt. U. S. Navy
World War II
---
 Foss, Pauline
Foss, Pauline Eveleth (b. 1916-d. 1980)
Lt. U. S. Navy
World War II
---
Foss, William C.
Foss, William Crook (b. Feb. 27, 1915-d. May 16, 1945)
Hawaii; son of John Harrison Foss, Sr. and Irene Crook Foss
Captain 532 Field Artillery Batallion
World War II

---
Foster, John E.
Pvt. John E. Foster (March 4, 1846-May 28, 1929)
Pvt. H 13 Illinois
pension beneficiary wife Hannah
Masonic emblem inscribed on marker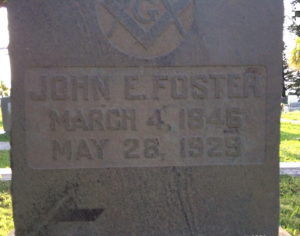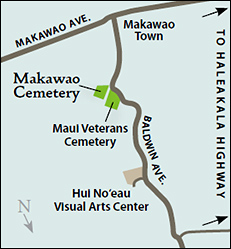 Plots are available for purchase in many sizes and family plots can be customized.
Please visit our grounds.
You are welcome anytime.
1-808-878-8338
Please Consider a Donation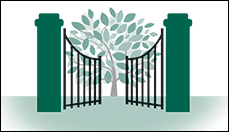 Your contribution to the Makawao Cemetery will enable it to continue to meet its mission by providing exceptional perpetual care of the grounds for the many individuals and families that lie within its borders as well as for those to come.
We are a 501(c)(13) Charity
Testimonials
"I was looking for a plot for myself, so my kids wouldn't be burdened with that. I told my dad I was thinking about Makawao Cemetery. It's beautiful, well-kept, and it's upcountry, where I've lived all my life. My dad said, 'Nice sentiment, but that's for important people.' Well, the Cemetery superintendent came to the house with all the paperwork, and I picked a plot next to a yellow lehua tree."
— CB