Memorial for the Military Veterans of Makawao Cemetery [A-F]
The purpose of these pages is to recognize the military veterans buried at Makawao Cemetery. These servicemen participated in the Civil War, the Hawaiian Rebellion, the Indian Wars, the Spanish American War, World War I, and World War II.
The veterans' posts are listed alphabetically by last name: [A-F]  (this page), [G-P], and [Q-Z]
---
Aiken, Dr. Perley J.
Armstrong,  J. A.
Aylward, R. M.
Baldwin, Dwight V.
Baldwin, John Castle "Johnny" (b. Apr. 13, 1938-d. May 6, 2011)
Served in the United States Marines
Bonnell, John H.
Boyum, John H.
Bush, III,  Gavien Fred 
Bush, III, Gavien Fred "Freddie" (b. Apr. 18, 1937-d. Dec. 19, 2011)
Served in the United States Marine Corps
Cameron, Capt. Charles Angus (b. Nov. 14, 1913-d. July 27, 2004)
Capt. U. S. Army Field Artillery, World War II
Participated in battles in the Marshalls, Marianas, Philippines and Okinawa
Awarded the Bronze Star Medal at Okinawa for heroic achievement
Cannon, Wilson Phillips
Dickey, Charles H.
Served in the United States Marine Corps during World War II
Captain served in Pacific Campaign, Bougainville, Territory of New Guinea
Fleming, Bruce
Foss, Francis D.
Foss, John Harrison Jr.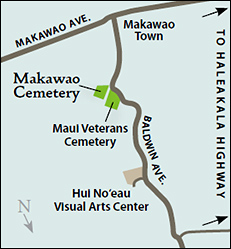 Plots are available for purchase in many sizes and family plots can be customized.
Please visit our grounds.
You are welcome anytime.
1-808-878-8338
Testimonials
"I was looking for a plot for myself, so my kids wouldn't be burdened with that. I told my dad I was thinking about Makawao Cemetery. It's beautiful, well-kept, and it's upcountry, where I've lived all my life. My dad said, 'Nice sentiment, but that's for important people.' Well, the Cemetery superintendent came to the house with all the paperwork, and I picked a plot next to a yellow lehua tree."
— CB